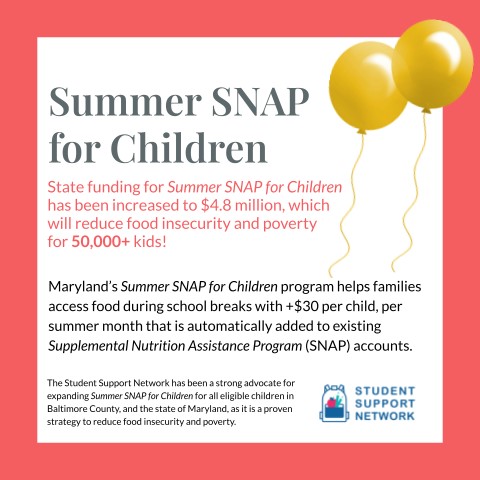 Great News!
Tam Lynne Kelley, Chair of the Advocacy Committee, and Laurie Taylor-Mitchell, President, have been working over the past few weeks to advocate for increased financial support for anti-hunger and anti-poverty programs. The attached "Road Map to End Hunger" in Baltimore County and in Maryland was distributed to local and state elected officials, education advocates, and the Governor to urge support for three effective programs that already exist, but are underfunded: Summer SNAP for Children, increasing the minimum monthly SNAP benefit, and the Maryland Meals for Achievement universal free school breakfast program.
We are thrilled to report that on January 18, 2022, the Governor's Office announced that $4.8 million in additional funding will be provided for the Summer SNAP for Children program, which will assist over 50,000 children in low-income families state-wide.
Thank you to State Senator Cory McCray and Delegate Pamela Queen, sponsors of the bill that created Summer SNAP for Children several years ago.  We are grateful for their leadership and to all of those who advocated for this proven strategy to lower food insecurity and poverty for children in low income families.
What is Summer SNAP for Children?
Maryland's Summer SNAP for Children builds on the federal Supplemental Nutrition Assistance Program (SNAP), which reduces food insecurity and poverty for 77,558 Baltimore County households.

Summer SNAP for Children helps families access food during school breaks by providing a state and county funded supplement of $30 per child, per summer month that is automatically added to existing SNAP accounts.

There are 51,627 children eligible for Summer SNAP for Children in Baltimore County. However, given inadequate funding levels, only 450 children in Baltimore County, less than 1% of those eligible, received this support in 2021.

The total cost to fully fund the program is just $100 per child, per year.

Towson University economists found that increasing funds for this supplement will "greatly benefit" the economy while reducing food insecurity, creating additional jobs, and increasing tax revenues.
How Can I Help?
Please join us in advocating for full funding for these programs!

The Road Map for Baltimore County charts a course that will reduce food insecurity and poverty for 78,300 County residents, including 51,627 children in very low-income households, 7,189 low income adults, and 19,851 BCPS students,  with an investment of about $6.7 million.

Write or call your County Council person; contact information available at https://www.baltimorecountymd.gov/countycouncil/  includes how to find your elected representatives.