Two thirds of Baltimore County Public School students live in poverty.
They lack the basics that kids need to focus, learn, and thrive — and struggle to make the most of school.
You can set local students up for success.
Partner with the Student Support Network to bring them supplies, carefree school days, and the confidence to be their best.
Did you know that there has been a major increase in student poverty in Baltimore County Schools in 2023?  That 73,677 students now qualify for FARMS (Free/Reduced Price Meals)? That this means that 66.38%, or two-thirds of all students in BCPS are now living in severe poverty?
A years-long dream to create maps showing poverty concentrations, legislative districts, and the locations of public schools in Baltimore County has become a reality.  These heat maps show councilmanic, state, and congressional districts, the concentrations of poverty in those districts (people qualifying for SNAP, the Supplemental Nutrition Assistance Program), and the locations of elementary, middle, and high schools in legislative districts.
The Student Support Network 2023 Fundraiser was held October 20 at the Grand Lodge of Maryland in Cockeysville.  A Night For The Network "Library Edition" was an evening to celebrate our community and raise funds for our future.  Many thanks to all — sponsors, supporters, Board of Directors, staff and volunteers — who made the night so successful!
The Student Support Network provides food, basic necessities, and advocacy to support the well-being of Baltimore County Public School students in need.

Rooms of Support
We meet students where they are. Twenty school-based Rooms of Support areas stocked with food, school supplies, clothing, and personal care products — all free to children who need them.
Advocacy
Aiming to create systemic change, we speak up for the needs of students living in poverty, whose voices tend to be heard the least. We advocate for change through policy, budget, and awareness.

Meeting Emergency Needs
Devastating emergencies — a fire, a global pandemic, death of a parent – happen,and we spring into action to help prevent further harm to children.
Read The Latest News From Our Blog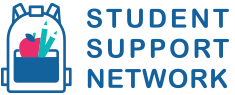 We are thrilled to announce that the Student Support Network has hired a new Executive Director! The Board and Staff welcome Wendy Stringfellow, a deeply...
Helping Students In Need
We are so grateful to all of our supporters for enabling us to help students who are living in poverty in Baltimore County. We use PayPal to process online donations. When you check out, you can use a PayPal account if you have one. If you don't have a PayPal account, PayPal accepts credit cards.
Be the first to know!
Subscribe to our e-newsletter to receive updates on the Student Support Network, volunteer opportunities, and more!